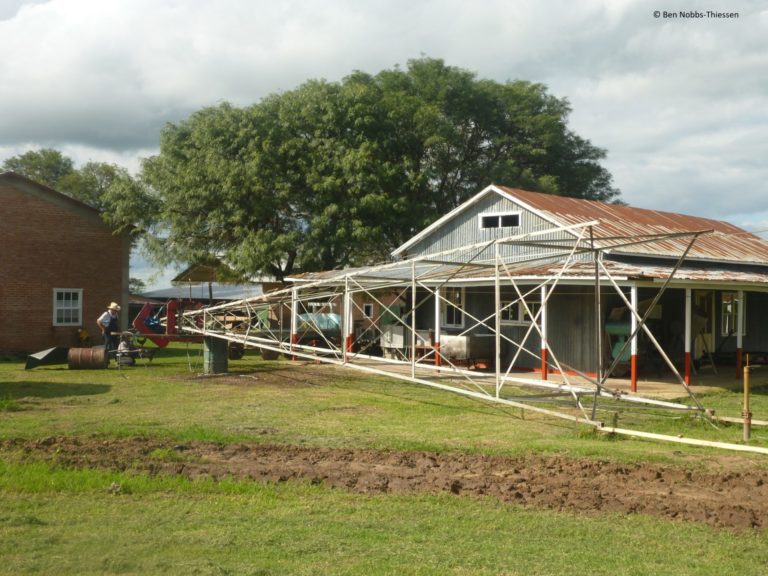 How visible is the "migrant knowledge" of a diasporic community living at the physical and cultural margins of the Americas? For nearly a century, Low German–speaking Mennonites have been settling in frontier regions of Latin America, now forming a population of roughly 250,000 in Paraguay, Mexico, Belize, Bolivia, and elsewhere. There these Russo-Canadian Anabaptists recreated endogamous communities in which they could establish their own schools and be free from military service. Old Colony Mennonites, the majority of Mennonites in Latin America, also sought frontier isolation in order to maintain internal regulations governing the use of technology as well as personal comportment and dress. While best known for their restrictions on personal mobility—horse and buggies for colony use and lumbering steel-wheeled tractors in the fields—some Old Colony Mennonites, whose past and current trajectories I sketch below, have exercised a paradoxical degree of mobility. I interviewed several Mennonite men from these communities in 2014 and 2015 as part of my research for a forthcoming book, Landscape of Migration: Mobility and Agro-Environmental Change on Bolivia's Tropical Frontier, 1952–Present.1 Their knowledge of—and from—the margins both belies and sustains the external perceptions and internal practices of this ethno-religious community's intentional immobility.
What do the geographies of these globe-trotting "luddites" look like? Narrating the mobility of Mennonites as they migrated from Russia (where they had settled the Ukrainian Steppe at the invitation of Catherine the Great in the late eighteenth century) to Canada in the late nineteenth century and then to Latin America in the 1920s can, as Andrea Westermann suggests for migrants in general, be seen through a bureaucratic-legal lens of negotiated inclusion. Where Mennonites settled, they first arranged for specific privileges with the state in question. The resulting agreement or Privilegium was negotiated by six-man delegations that colonies sent to prospective host nations. Delegates investigated settlement opportunities and brandished their credentials as proven agricultural pioneers on challenging or "marginal" landscapes. Such commissions were not always successful, failing to secure desired privileges in Argentina, Brazil, Mississippi, and Quebec, among other places. Nonetheless, the impressive track-record of their closed-door negotiations with top officials can be read in a profusion of decrees, orders, and agreements between Mennonites and the state that provided the desired special exemptions and guarantees.
In Canada, Order-in Council 957, signed by John Henry Pope, Minister of Agriculture and approved Aug.13, 1873.
In Paraguay, Law No. 514, approved by Senate and Chamber of Deputies and signed into law by President Manuel Gondra, July 26, 1921.
In Mexico, Presidential Decree by Álvaro Obregón, Aug.26, 1921.
In British Honduras (now Belize) the Formal Agreement of Dec.18, 1957 signed by Governor Colin H. Thornley.
In Bolivia, Supreme Decree 4192, Oct.6, 1955 signed into law by President Victor Paz Estenssoro (re-established in 1962).
These legal privileges triggered subsequent waves of mobility as hundreds, eventually thousands, of Mennonites prepared to move to new lands. Colony representatives served as dutiful, if sometimes reluctant, "travel information brokers," providing the specialized migrant knowledge their co-religionists needed to move between nations and across hemispheres. The meticulous diary of Johan Wiebe recounts dozens of trips between his home colony in the state of Chihuahua to Mexico City and La Paz. He batch-processed hundreds of visa applications and passport renewals, negotiated shipping rates and personal fares, and met with government officials.2 In 1968, Wiebe eventually chaperoned a group of over one hundred fellow colonists on a roundabout voyage through Central America (by land); from Panama to Chile (by sea); and to La Paz and eventually Santa Cruz (by rail and bus). On the Bolivian side, other Mennonite leaders scouted, purchased and parceled land in advance of arriving colonists to form the colony of Riva Palacio in the country's eastern lowlands, borrowing the name of the Mexican municipality they had just left behind.
Official colony representatives were not the only travel information brokers to shape the contours of Mennonite migration. Peter Wall, who now lives in Riva Palacio, had grown up in Mennonite colonies in northern Mexico before moving with his family to another settlement region in northern Alberta in 1952. In the late 1950s, he learned of the opening of new Mennonite colonies in Belize. Wall and his brother purchased retired school buses in Canada, enlisted interested Canadian Mennonites, and proceeded in convoy southwards. Traveling south through the Great Plains of the United States, they stopped in Mexican Mennonite colonies in Chihuahua, where they visited friends and family and loaded additional passengers before continuing into Central America. In Belize, the enterprising Wall brothers dropped off their passengers, sold the buses at a profit, flew back to Canada, and repeated the process again.3
Tracing these narratives of pioneering mobility can succumb to a linear model of migration in which a moment of upheaval accompanying emigration and resettlement gives way to a period of stability. In that accounting, the impressive acumen that brought Mennonites to northern Mexico, western Paraguay, Belize, or eastern Bolivia simply vanishes upon arrival. Indeed, outside observers soon fell prey to this benign form of forgetting. They rapidly cast transplanted Mennonites as "rooted" in the soil, "bound" to the land, and living "timeless" village lives with traditions "carried on for centuries."4 Mennonites, recognizing that the basis of their special exemptions lay in the image of harmonious, and productive farming communities were all too eager to sustain this narrative in their conversations with outsiders and periodic negotiations with the state. Jakob Klassen, for instance, drew on such images in a petition to the Bolivian National Agrarian Office in the early 1980s, less than a decade after his arrival from Mexico. He claimed that members of his colony felt they were "an inseparable part of the great nation of Bolivia," adding, "[we think] of ourselves as your own campesinos." 5
Yet the same Mennonites quietly continued to rely on mobile, colony-based brokers like Wiebe and Wall and to avail themselves of transnational opportunities long after settlement had taken place. Transforming frontiers into agrarian landscapes often depended on machinery not available locally and on the identification and production of new cash crops. In 2013, when I revealed to Wilhelm Buhler, another resident of Riva Palacio colony, that I was based in Atlanta, he casually mentioned that he had been to Hartsfield-Jackson International Airport only the year before. I knew that Buhler traveled regularly to Texas. There, with the assistance of a Mexican Mennonite colony created in Seminole in 1977, he purchased used farm equipment to ship back to Bolivia, where he sold it to his Mennonite neighbors. I asked if this had been a stopover on the way to Texas. No, he responded, was I familiar with Tifton? When I confessed my ignorance, Buhler explained that he had traveled with other Mennonites to the small city in South Georgia, where the University of Georgia operates a peanut research and agricultural extension facility.6 His home colony in Bolivia had shifted from soybeans to more drought-resistant peanuts in the wake of repeated crop failures in the 1990s and 2000s, and Buhler wanted to observe new harvest technology and production techniques in action.
He was not the only colonist in Riva Palacio whose impressive personal trajectory bedeviled my initial assumptions about Mennonite mobility (or lack thereof). Walk down the graveled, tree-lined entry to the Hamm family's homestead and a seductive narrative of rooted agrarianism can take hold. Pails brimming with milk await pickup on a small wagon by the road. A distinctive black buggy sits beneath a tree with a horse tethered nearby. Next to the brick house is a shed housing a tractor with locally fashioned steel-wheels (another restriction on mobility maintained in the colony). Alongside sits a barn where, in compliance with colony regulations, the entire family hand-milks their dairy herd twice daily. Arrive on laundry day and a row of long flower-print dresses and black overalls hangs on the line (fig. 2). In the distance fields of sorghum and grass provide for the Hamm's cattle.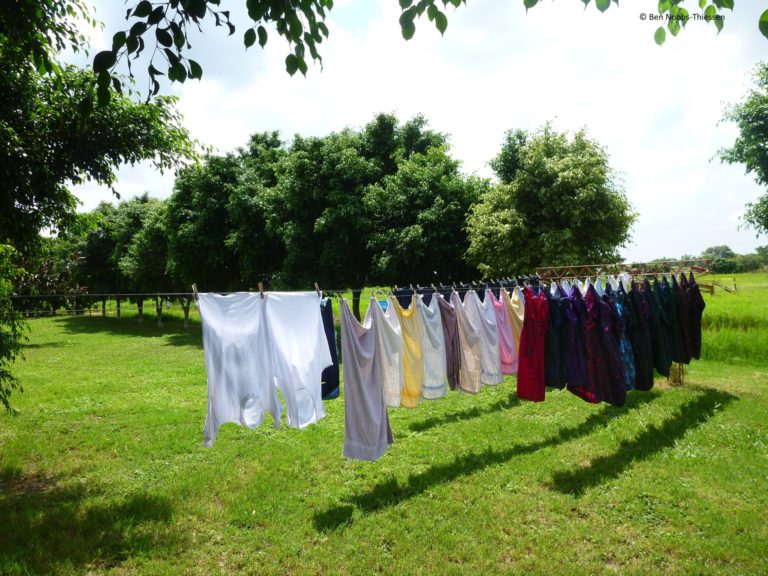 These are scenes that have regularly captivated outsiders ranging from tourists to journalists, anthropologists, and photographers. Yet wander into Abram Hamm's tool shop at the rear of the house and a striking visual incongruity emerges (fig. 3). Next to a well-used machete, a pair of shears, and a saw, hangs a white and blue license plate blithely proclaiming that Ontario is "Yours to Discover." How did this artifact of the Canadian regulatory apparatus come to be suspended in a rural out-building in the semi-tropical lowlands of eastern Bolivia? Its location in the tool-shop is apt. Hamm, who was born in Mexico before arriving in Bolivia as a child in the late sixties is part of a multi-generational transnational labor migration network.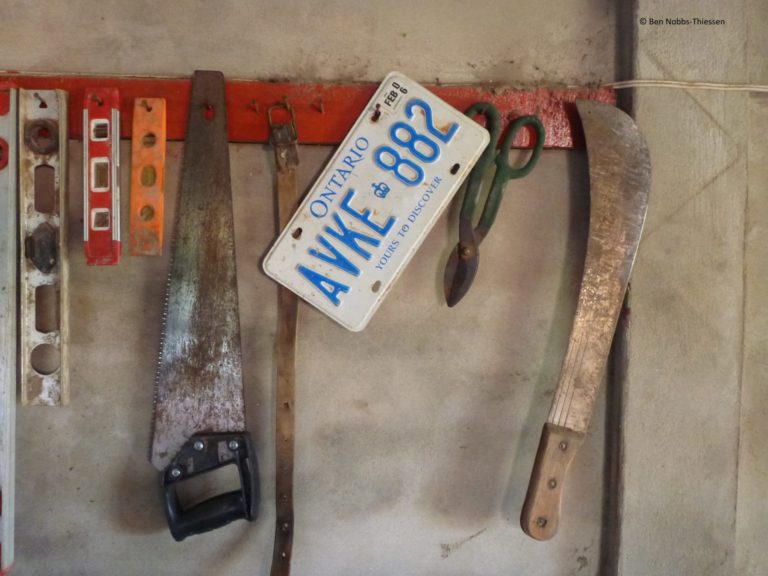 Beginning in the forties, this network connected Mennonite colonies in Mexico to seasonal farm work in Canada. Faced with drought and fluctuating commodity prices, or lacking capital to purchase their own farms, young Mexican Mennonites in Chihuahua had turned the migration pattern of the privilegium back on itself. Re-establishing the Canadian citizenship held by parents or grandparents, they traveled northwards to work the Canadian harvest. In contrast to the all-male Mennonite brokers that negotiated with governments, facilitated travel, and purchased equipment, this network often comprised entire families who worked Canadian fields together. While some supported struggling "traditional" lives in Mexico with modern waged labor in the north, others made the migration permanent, coming to comprise a community of roughly 60,000 Mexican Mennonites in Canada.
As Westermann points out, "collective routines, once established are difficult to stop," and strategies initially pioneered in Mexico, were revived in Bolivia in the face of similar stresses from the late 1980s into the 2000s. The registration sticker on Hamm's license plate (February 2006) represented the last time his entire family had lived in the north, where, in stark contrast to his "traditional" life in Bolivia, he worked in a factory, lived in a suburban Ontario home, and drove a car. Hamm had returned to Bolivia to expand his Riva Palacio homestead with wages earned in Canada, but as I visited him, his oldest son, struggling to establish his own farming operation in the colony, left to work in Alberta.7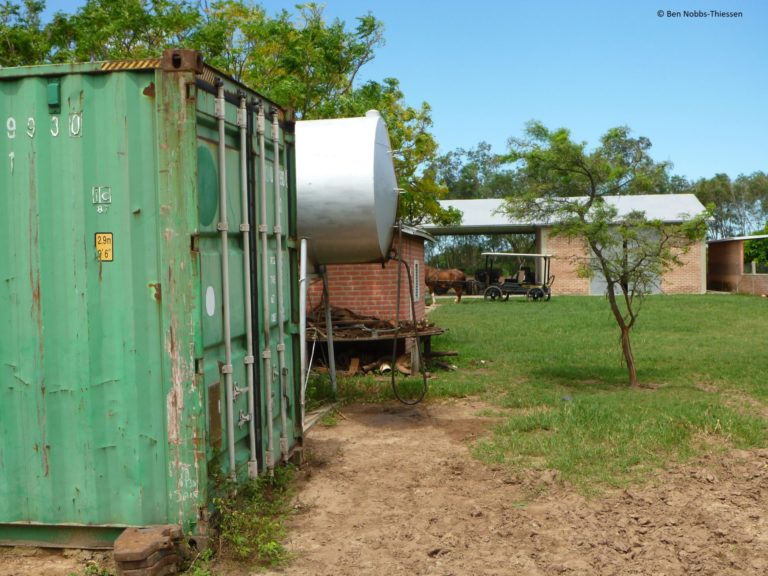 The tell-tale foreign license plate in Hamm's workshop, the international shipping container-turned storage shed in Buhler's front yard (fig. 4), copies of Wiebe's travel diary shared by colony members, and Wall's wistful recounting of misadventures on board the bus between Alberta and Belize all point to the profound and continued transnationalism that has shaped Bolivia's largest "traditional" horse-and-buggy Mennonite colony. To see migrant knowledge of low-German Mennonites in action, however, you need not travel to this remote colony. Simply pause for a moment at the airport in Mexico City or Miami. You will likely soon stumble across a group in tell-tale hats, overalls, and flower-print dresses preparing to board a plane to Asunción, Santa Cruz, Toronto, Edmonton, Belize City or elsewhere. Such migrations might represent the planned search for new settlement opportunities (Mennonites recently established colonies in Peru and Colombia), the entrepreneurial desire for agricultural technology and knowledge (one group of Mennonites I spoke with traveled to China to investigate dairy equipment) or the more desperate, but no less calculated pursuit of wage labor in the north. Their presence may also be indicative of something more intimate, but equally emblematic of the diasporic impulse, the attempt to maintain personal contact between family members within a community scattered across the margins of the Americas.
I shot all the photos used here in 2014 at the Riva Palacio Colony with the consent of the subjects. The people who I mention here explicitly by name have given me permission to do so as well.
---
Suggested citation: Ben Nobbs-Thiessen, "Marginal Knowledge: The Transnational Practices of Latin American Mennonites," Migrant Knowledge, March 22, 2019, https://migrantknowledge.org/2019/03/22/marginal-knowledge-the-transnational-practices-of-latin-american-mennonites/.